Dr Panda (Liu's Chinese Medical Centre)
The team at Dr Panda is led by our Chinese doctor, Mr Zexin Guo (John), who has thirty years experience working in traditional Chinese medicine and acupuncture.
What is traditional Chinese medicine?
Traditional Chinese medicine refers to a wide range of alternative medicine techniques and treatments including acupuncture, herbal medicine, massage, exercise and much more. All forms of Chinese medicine share the common theoretical concepts of yin and yang which have been part of the Chinese philosophy for over 3000 years.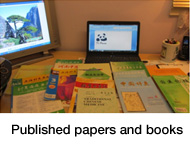 Although they are considered as alternative medicine in the western world, our medical practices have been the basis of medical care throughout Eastern Asia for millennia.
Traditional Chinese medicine focuses on the root of your ailment or illness and aims to treat the whole body rather than just the symptoms. We treat every patient as an individual and will offer excellent treatments that will get your body in balance, leading to a healthier and happier you.
Why choose Dr Panda?
Dr Panda is headed by our Chinese medicine practitioner, Mr Zexin Guo (John), who was a medical doctor in China
He was also a specialist in traditional Chinese medicine at a university hospital in China
John is a professor and one of the authors of the medical textbook "Acupuncture Techniques" that is used by students at medical universities throughout China
He has written and published over thirty papers on the journals of traditional Chinese medicine, acupuncture and rehabilitation
John is a Fellow of the Association of Traditional Chinese Medicine and Acupuncture UK
He is a leading part of our well-established Urmston practice which has been trading for over 15 years in Manchester. In the team at our practice, there is also another practitioner who is a member of the British Acupuncture Council
The team has diagnosed and treated over 30,000 cases in China and the UK
View Larger Map